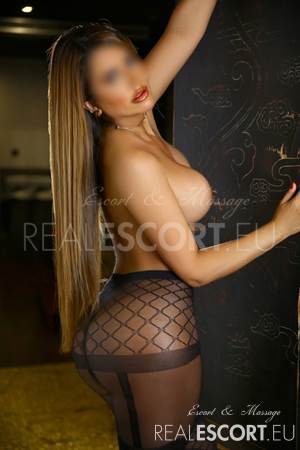 A hirdetés érvényesített volt 2 nappal ezelőtt
Chanel01
Jelenleg itt van Oslo
Árak:
Értékelések: Összefoglaló elégedettség
Jó: 22 | Rossz: 1
Leírás
🔥Hello Gentleman, my name is Chanel, a sexy Latin girl.

I am a woman of the world! Well traveled, educated and sexy as a good latina.
I enjoy the company of a gentleman who enjoys everything life has to offer… If you are looking for a good time to disconnect from the routine with a confident, witty, and discreet lady, then please contact me. I love to please you and offer a great service the best I can. I'm everything you have ever hope don't wait to come to meet me.

Offering incalls services and also hotels.

I will be your ideal companion even for a trip, event, or dinner. I guarantee you the best services and GFE benefits at the highest level.

I value our time together. To be sure we make the most of it and for the most enjoyable experience for both of us, please take a look at a few simple requests. If you have any special request please let me know ahead of time so I can do my best to accommodate. Please be on time and if you have to cancel or will be late let me know as soon as you can. I of course will do the same. Please be respectful as you would with anyone else that you would meet. A little niceness goes a long way and can be very rewarding. (Not second chances if you don't cancel)

My way of dressing elegant and seductive, at the same time discret. I'm not vulgar. I promise you that our time together will be uniquely special and will leave you completely satisfied.

I invite you to contact me for an unforgettable experience.
I'm pettry sure you will not miss it.

All my photos are really recent talken and 100% genuine, You do not need to worry about it, also videos, selfies.

I offer GFE services high quality, sensual, intimate and erotic experience with extras.

💫 I provide services for couples (only in a hotel 🏨 this special service, not at my place) service is 6000 nok 1 hour plus 🚕


As a VIP companion, and with the highest level of discretion in mind, your privacy is my highest priority. I am easy going, confident and I have a nice sense of humor our meeting must be a special moment for you. That's why I like to prepare myself in advance to welcome you in the best conditions.

The hygiene should be impeccable. It is essential hygiene be performed by all clients in my place.

***It is advisable to confirm appointment between 1 hour in advance.

***Being very solicited, donations should NOT be discussed during the phone conversation/email and our meeting.

***Only serious and respectful men

*** Dear friend! I ask you kindly please cancel the meeting with me if you feel unwell. In turn, I can guarantee my perfect health when I meet and the absence of any symptoms. Let's take care of each other's health! 👍🏼

Contact me by the number indicated. (If I don't pick up please send me a text message or WhatsApp) dear if you text me after 23h then I can't guarantee to reply.


MY PICTURES ARE 100% REAL.

Best way to contact is by message or WhatsApp, please when sending message dear tell me a bit about your self, time to book, how long you want to stay and nationality please.

I'll waiting for you with a sexy lingerie in my private and discret apartment.
If you like FOOT FETISH (i have beautiful feet), all position are alloweed in my bed, COB, FK (if is good higienic) , OWO (hygiene impeccable) GFE, striptease, full body massage.


I am 100% independent LUXURY LADY and pick up on the phone If I don't answer please be patient sometimes I'm busy. Try again.
⁉️(Updated)!! Please darlings in the case I don't answer you must understand I have limited appointments per day, by which I appreciate the quality and not the quantity. I have my own rules and filters to make appointments, I have the rights to decided the numbers of visitors and who comes to my place, I have a personal life and I develop other activities, also if I don't feel chemistry at the phone I have the chance for not continue on the conversation without telling the reasons, thanks for understanding.


Do not hesitate to meet me, it will be a pleasure to share an unforgettable moment with you.

Looking forward to see you...

*Payment can be done in euros 💶 also
*outcall fee (taxi isn't included must pay by customer)

***I answer only to serious messages!

Please! I will not reply if you...
. Do video calls.
. Asking for penetration without protection 🤦🏽‍♀️
. Vulgar with rude words

*All messages like:

-asking photos ( you can check all my books on the site also professional videos and selfies also, to verified my authentically), I don't show my face because I also do other activities, if you don't trust I understand but I'm not sending pictures of face, no video calls neither.

-wanna meet

-hey

-address

-trying to make jokes

-asking discounts/ trying to negotiate price

-telling stories about fantasies

-with suspicious questions


ARE ALWAYS IGNORED, I never answer to messages like that. Dont waste Your time if You plan to write this 😉 Thank You for understanding.


With love 💕
𝒞𝒽𝒶𝓃𝑒𝓁 🌹
Kapcsolat
SMS-t fogadok: Igen
A WhatsApp üzeneteket fogadja el: Igen
Válaszol rejtett számra: Nem
Mondja: A RealEscort-on találtam a hirdetését
Beszélt nyelvek:
Spanish: Jó
English: Jó
---
Kérem mondja el hogy találta meg a hirdetésem www.realescort.eu
Általános figyelmeztetés!
Soha ne küldjön pénzt előre, ha escort szolgáltatást foglal!
Ezek a hirdetések többnyire és valószínűleg csalások. Általában új ügyfélként igénylik az igazolást
bizonyos összeg pénzküldésével Paysafecard, kuponok, Google Play kártya, PayPal stb
Ez egy általános figyelmeztetés, amelyet minden látogatónak megadunk, nem erről a konkrét hirdetésről szól, amelyet látogat.
Szolgáltatások
A piros figyelmeztető ikon azt jelenti, hogy a szolgáltatás speciális utasításokat tartalmaz, és a további információkért kattintson.